Dissemination Conference in Tallinn, October 2009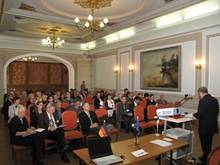 Leading Ahead - 24 countries, 1 aim
The first dissemination conference was set in Tallinn, a port well worth seeing and displaying medieval city walls and half-timbered houses in Estonia.
The Teacher´s House on the market square offered room for about 70 participants and technical equipment to support the course of the venue.
The conference was opened by Janar Holm, representative of the Estonian Ministry of Education and Research. Followed by Wolfgang Vanscheid, business representative of Fujitsu Technology Solutions. Honours and welcome addresses were given by the project coordinator, Dr. Rolf-Peter Berndt.
The organisers were pleased to especially welcome the South African education delegation from the Eastern Cape: the honourable MEC Mahlubandile Dickson Qwase, F. Loliwe - Lovedale College and SATU, J. J. Mbana - President South African College Association and CEO East Cape Midlands College, K. Ngaso - Head of Department FET Colleges, M. Sanqgu - Teacher Training Centre.
Colleagues and tandem partners from 8 other countries of the EU were warmly welcomed to and integrated into the work of the project, offering an additional look into and different approaches to school leadership.
The impression received at the conference was the diversity of the varieties of school leadership. This impression was complemented by the contribution of key note speaker Prof. R. D. Muijs from Manchester University, UK, who presented the principle of "Distributed Leadership" to the audience.
Documentation