First Editorial Conference in Izmir, June 2009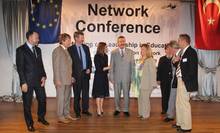 Partners together for The Making of: Leadership in Education
Beginning of June 2009, all partner countries came together in Izmir to take part in the first editorial conference of the project. The expectations were high and the venue well-chosen. The basic conditions were perfect and provided for the comfort of everyone. Especially the Turkish hosts did an excellent job by arranging for the logistics of the conference course and caring for the well-being of the participants.
The conference was inaugurated by the governor of Izmir, His Excellency Cahit Kirac, at TAKEV school. Furthermore, honours and welcoming addresses were given by Ms. Gönül Ketenci -Head of TAKEV Schools, Prof. Wolf-Dieter Hasenclever - President of the NiLS and Dr. Rolf-Peter Berndt - the Comenius Network Coordinator.
The launch of this website by Ms. Celia Theart from Intengu, SA was one of the main events of the conference course and was applauded genuinely. Ms. Loliwe from Lovedale College and board member of the teachers union SATU in the Eastern Cape delivered regards on behalf of the MEC M. D. Qwase and emphasised the importance of the project Leadership in Education and the developing cooperation.
The region Eastern Cape in South Africa is the official partner region of Lower Saxony.
The conference process was busy and produced valuable outcomes relevant to the future work of the project. All participants showed a high degree of involvement in the project and with the results, led the conference to success.
Press coverage - Editorial Conference Izmir 2009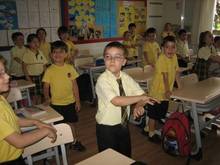 "We owe our kids the very best."
On the initiative of Lower Saxony, 32 European countries are cooperating to set up better school management