Leading Ahead 2011 in León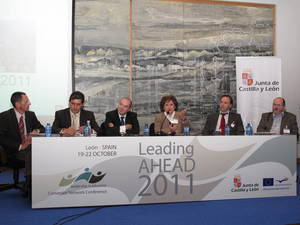 The picturesque town was host of the final dissemination conference of the Leadership in Education network
The final dissemination conference in León was a great success for exchanging, learning and disseminating information on school leadership models. More than 140 participants from nearly 30 countries took a professional interest in the event, that offered not only key note speeches from different leadership views but also workshops on the following thematic core areas of Human Resources Management:
Conference programme
The keynotes covered the following topics:
How to cope with stress and burnout in the workplace

Successful HR management: Managing stress in the workplace

Cyber Bullying – Challenges for teachers and school leaders

European Leaders' Training in Education (ELTE)

A European Framework of Reference for School Leadership
The individual sessions concentrated on the following fields of work:
Coaching School Heads

The Learning Trust Employee Assistance Programme

Time for Leaders (TFL)

Understanding and developing Human Resources (Persolog)

Management Drives

Ethical Leadership – A prerequisite for School Leadership today?
See the programme in detail.
Documentation
Download PDF files with the presentations and papers for each keynote and session.