Razem dla Edukcacji, Poznan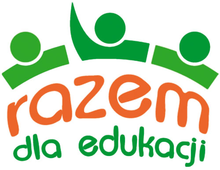 The association Together for Education is an NGO with the aim of supporting the national school and science system. It was founded by active teachers, professors and managers of the further education centre ODN Poznan who are responsible for the development of the regional school system.
The members of the association are people who, for many years, have gathered great experience in training, improving the skills of and supporting executive managers in the educational system of Poland. In that respect, the association has been very influential on general decisions concerning the educational system and in developing new pedagogical concepts over the last years.
Since 2008, the association has been an important partner of the Ministry of Education in implementing modifications to the Polish education system. They also take part in the project "successful, pupil-oriented and modern education" run by the Ministry. In this context, they organise training for executives including their evaluation and documentation. By working closely with the school authorities of Greater Poland, these experiences will have an impact on the overall process of leadership qualification.
For more information, please visit www.razemdlaedukacji.pl